When there are days of the week where there is no consumption (for example on weekends), it is necessary to store the solar energy produced those days, since otherwise it would be wasted. Alternatives to store that energy depend on the fluid needed for the process.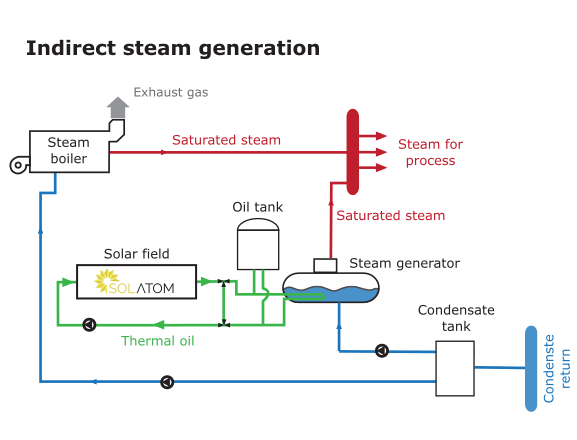 Steam is a fluid that is not easy to store (due to its high specific volume), so intermediate fluids are usually used. To generate steam with intermediate fluids, a solar boiler is used in parallel with indirect steam generation.
Indirect steam generation in a solar boiler
To generate steam indirectly, an intermediate heat transfer fluid (HTF) is used. This fluid circulates through the solar field in a closed circuit (without mixing with steam). Depending on the vapor pressure required for the process, this fluid can be pressurized water or thermal oil. To generate the steam, a kettle reboiler steam generator or shell-tube exchangers is used. The advantage of using an intermediate fluid is that it can be stored very economically using insulated tanks. Storing allows not to waste solar energy when the factory has no consumption.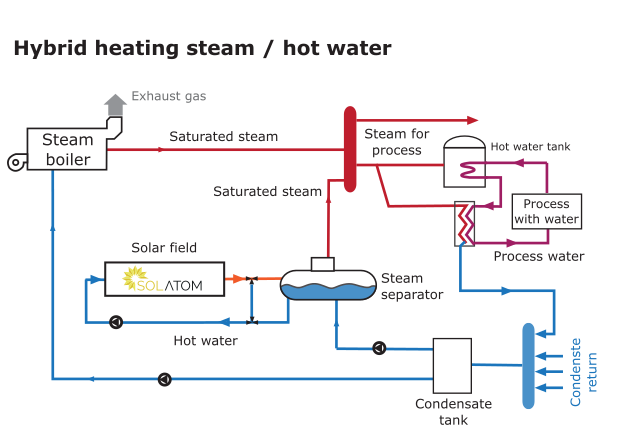 When a significant part of the steam generated by the boilers is used to heat up water, it is possible to take advantage of the solar energy when there is no consumption. To do this, the solar boiler must perform hybrid heating. Hybrid heating allows the solar boiler to be used to generate steam and not waste solar energy on days when there is no consumption, storing it in the form of hot water.
Hybrid heating steam / hot water
Suppose, for example, that our factory needs steam only from Monday to Friday, and that this steam is largely used to heat water. Under normal conditions, the steam that the plant generates during the weekends would be wasted, since storing the steam is complicated. To avoid this, the steam generated during weekends is used to heat water that is subsequently stored in insulated tanks. This hot water can be used during the week without problem. For hybrid heating to make sense, there needs to be a centralized point from where hot water is distributed (a reservoir or set of tanks). Otherwise it would be necessary to duplicate the entire distribution system.